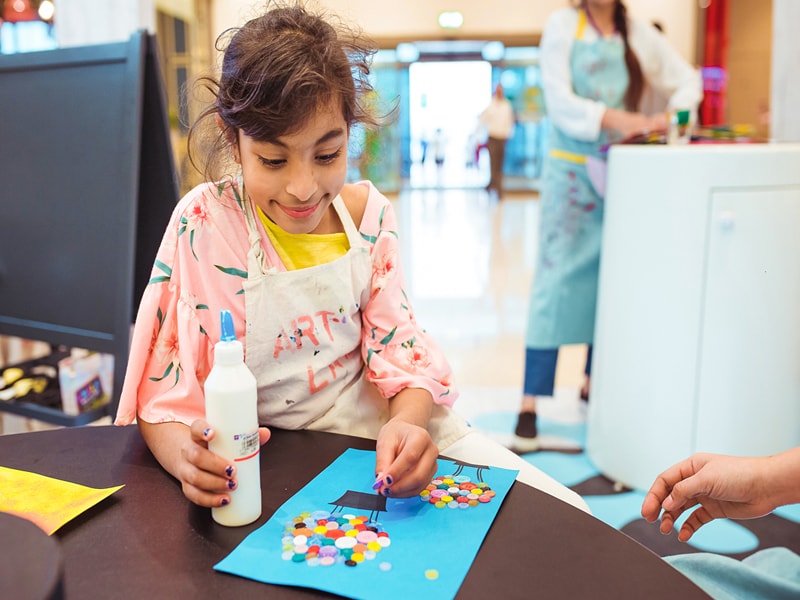 < Back to listing
My City Centre Masdar debuts Summer Rewards initiative with Department of Culture & Tourism Abu Dhabi
• Majid Al Futtaim's first mall in the capital launches the Art Lab pop up with free art and craft workshops for the entire family this summer
• Shoppers can avail discounts of up to 90 per cent on their favourite brands as My City Centre Masdar participates in Retail Abu Dhabi – Summer Edition for the first time
• New mall's first rewards campaign with DCT – Abu Dhabi to give shoppers a chance to win a brand-new Chevrolet Tahoe SUV and 10 grams of 18 carat gold daily
The newly opened My City Centre Masdar has launched its first Summer Rewards campaign, in partnership with the Department of Culture and Tourism - Abu Dhabi (DCT - Abu Dhabi), as it participates in Retail Abu Dhabi (RAD) – Summer Edition for the first time. The campaign will give shoppers the opportunity to walk away with exciting prizes all summer. Visitors can also take advantage of unique family experiences and free community workshops this season.

Majid Al Futtaim's first mall in the capital opened its doors to residents of Masdar City in April. The mixed-used development is designed to meet the day-to-day needs of the community and is a social hub for families and friends to connect.

Shoppers at My City Centre Masdar can enjoy up to 90 percent off at select retail stores and dining outlets, as well as Buy One, Get One Free offers. For those who have their sights set on an even higher reward must spend AED 200 or more to enter a draw to win a brand-new Chevrolet Tahoe. Additionally, shoppers who spend AED 200 or more will get the chance to win 10 grams of 18 carat gold daily.

After the successful launch of the free Art Lab pop up at Majid Al Futtaim's community malls in Dubai and the Northern Emirates, My City Centre Masdar has brought this exciting arts and crafts space for families in the capital until August 3. There adults can enjoy their shopping experience while their children flex their creative muscles and bond over stimulating activities indoors during the summer months.

Youngsters can pick up new skills, including glass painting, tape art making, straw painting, thumbprint painting, flower making, quilling art and even yarn art. The workshops run from 4pm until 10pm on weekdays and from 4pm until 11pm on Thursday, Friday and Saturday.

"This season, we want to give families a break from the heat with exciting ways to stay engaged, learn new skills in the cool indoors and win big. At our exclusive Art Lab, children can acquire new skills for free, connect with friends and create great moments together. We have also partnered with the Department of Culture and Tourism - Abu Dhabi for our first summer rewards programme where shoppers can walk away with gold coins daily or the grand prize of a brand-new Chevrolet Tahoe," said Maryam Ahli, Mall Manager.