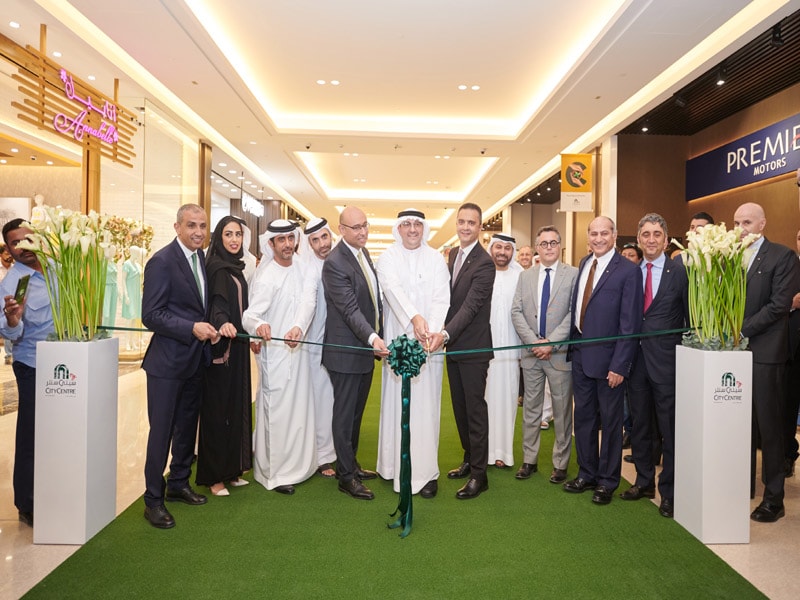 < Back to listing
Majid Al Futtaim officially opens AED 300 million My City Centre Masdar, set to be Abu Dhabi's most sustainable mall
• Launch includes Carrefour's 100th store in the UAE
• My City Centre Masdar is Majid Al Futtaim's 25th shopping mall in the region
• New destination features 18,500 sqm of gross leasable area, including a 7,000 sqm Carrefour Hypermarket and dining options for Masdar City residents, surrounding communities
Majid Al Futtaim, the leading shopping mall, communities, retail and leisure pioneer across the Middle East, Africa and Asia, today launched Abu Dhabi's most sustainable retail destination – My City Centre Masdar.

The AED 300 million community project – Majid Al Futtaim's first shopping mall in Abu Dhabi and its 25th in the region – is a flagship mixed-used development with sustainability at its core.

"My City Centre Masdar's opening marks a key milestone for Majid Al Futtaim as its 25th shopping mall in the region and its first mall in the UAE's capital. Expected to be one of the region's most sustainable malls through the efficient use of resources including energy and water management, My City Centre Masdar underlines Majid Al Futtaim's commitment to an enhanced living environment driven by the UAE's long-term sustainability goals," said Ahmed Galal Ismail, Chief Executive Officer of Majid Al Futtaim – Properties.

Featuring sustainably sourced wood, a range of locally-grown produce and a commitment to reducing single-use plastic bag usage, by being the first hypermarket in the UAE not to offer them at the cash counters, the 7,000 sqm Carrefour hypermarket at My City Centre Masdar is also the brand's 100th store in the UAE.

"It is a tremendous honour for Masdar City to be the home of Abu Dhabi's most sustainable shopping mall," said Mohamed Jameel Al Ramahi, Chief Executive Officer of Masdar, Abu Dhabi Future Energy Company. "I'd like to congratulate Majid Al Futtaim and all the teams involved in realizing this landmark project, which is further evidence of the status of Masdar


City as a location for leading businesses and international brands, and of the commercial appeal of low-carbon urban development."

"Of course, Masdar City is not only a benchmark for sustainable urban development," Al Ramahi added. "It is also a thriving community made up of thousands of residents, students, researchers, entrepreneurs and business people, supported by the Free Zone, which provides unique business support services and regulations. The opening of Majid Al Futtaim's first shopping mall in Abu Dhabi will be a welcome attraction for the residents of Masdar City and the surrounding community."

"We started this journey almost 25 years ago with our first Carrefour hypermarket that set the standard of everyday grocery shopping in the UAE," commented Hani Weiss, Chief Executive Officer of Majid Al Futtaim – Retail.

"Over the years we have continued to redefine this experience for our customers, culminating in a comprehensive omni-channel offering and pioneering environmental credentials – like our Masdar store – that are core to our investment strategy," he continued. Majid Al Futtaim Retail operates more than 270 Carrefour outlets in 15 countries across 37 markets in the Middle East, Africa and Asia.

As Abu Dhabi's newest retail and dining destination, My City Centre Masdar features more than 70 stores across 18,500 sqm of gross leasable area including Redtag, Carrefour, Life Pharmacy, Al Jaber Optical, Zaatar w Zeit, Kababji and Cinnabon. The mall's 600 car parking bays are shaded by roofing housing photovoltaic cells, generating electricity equivalent to one-fifth of the mall's annual energy usage. Six percent of parking has been set aside for electric, hybrid or carshare vehicles – and half of these spaces are equipped with charging points.

The mall plans to recycle at least 80 per cent of its operational waste. Sustainability-focused features include energy-efficient escalators and lifts, and the exclusive use of LED lighting that were used during the basic elements of construction and inside shop interiors.

Additionally, all the materials used during construction were manufactured within 500 km travelling distance of the project site. Sustainability features such as these were integral to My City Centre Masdar's achievement of Abu Dhabi's Estidama Three Pearl rating, a benchmarking measure equivalent to the LEED Gold rating for exceptional performance in energy and water conservation.

My City Centre Masdar is set to employ 2,000 people, having already created opportunities for 1,500 people during its build-out phase. The new mall is centrally placed within the planned Masdar City transit network. It is adjacent to the site of the proposed Masdar City Metro Station and within 300 metres of the nearest proposed bus and light rail transit stops. The mall will also be connected by public bus routes, with plans in place to utilise the autonomous, electric vehicle Navya to connect the mall to other destinations within Masdar City.